Originally under the Siemens name, Signia hearing aids date back to 1913. Signia was launched as a more forward-thinking and customer-centered brand in 2015, placing technological innovation at the forefront of their German engineered hearing devices.
Signia's newest hearing aids put more of an emphasis on speech assistance technology, wireless device connectivity and ideal value options based on your individual hearing loss needs.
The Best Fit Possible
The Insio Charge&Go AX hearing aid is tailored to sit comfortably and discreetly inside your ear. Its leading Augmented Xperience platform also makes for outstanding speech clarity in even the noisiest environments.
Key features:
Custom-fit
Outstanding clarity
Connectivity with Android™ and iPhone® devices
Contactless rechargeable batteries (up to 20 hours)
Pure On the Go
Signia's Pure Charge&Go AX is the world's first hearing aid with Augmented Focus™, which delivers outstanding speech recognition with comfort and clarity. These hearing aids will change the way that you hear the world around you.
The Charge&Go AX helps unravel any confusing array of background sounds so you can focus with ease on what, and who, you want to hear.
Key features:
Augmented speech understanding
Immersive soundscape
On-the-go recharging
Wireless device connectivity
AI digital assistant
Keep Your Hearing Active
With its enhanced speech understanding technology and portable charging, the Signia Active X helps you take your hearing performance to the next level. This revolutionary earbud-styled hearing aid, programmed with the Xperience sound engine for exceptional quality, allows you to stream music and take phone calls via Bluetooth® technology.
Key features:
Bluetooth® streaming
Charge on-the-go option
AI digital assistant
Instant fit for maximum comfort
The Active and Active Pro are two of the best Signia products in terms of value and offerings. Their slick, stylish and convenient earbud designs let you stay on the go and live life to the fullest. Each Active hearing aid also features a convenient charging carrying case and wireless Bluetooth® connectivity.
Key features:
Designed for situational hearing difficulties
Greatest value of all Signia products
Tinnitus therapy and noise reduction technology
On-the-go recharging
Wireless device connectivity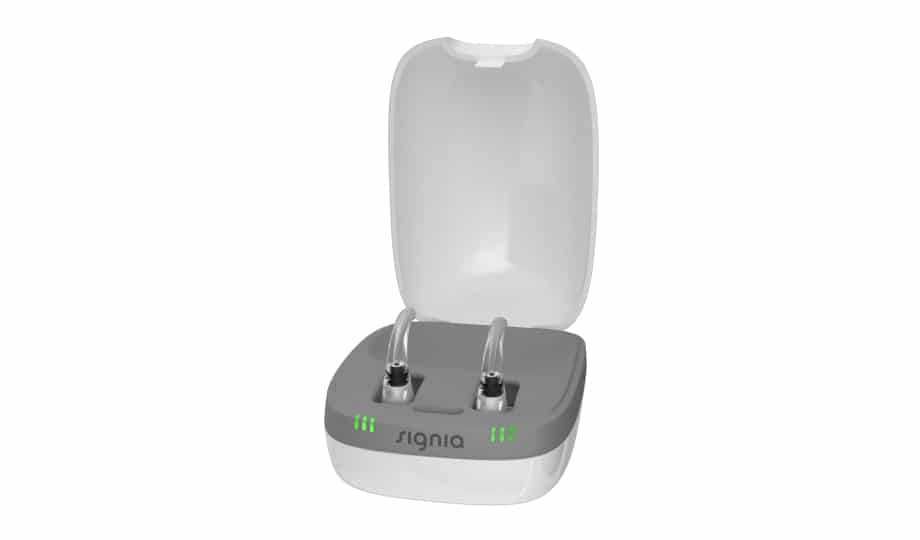 Experience Life in Motion
The Motion Charge&Go series offers you the ultimate rechargeable hearing aid experience. These sleek, stylish hearing aids help take your hearing performance to the next level.
All within a remarkably lightweight design, the Motion Charge&Go hearing aids lasts for up to 61 hours per charge, allow for long-lasting and high-quality streaming of music, calls and TV.
Key features:
Sleek, durable behind-the-ear design
Three powerful models (Charge&Go X, C&G P X and C&G SP X)
Wireless device connectivity
Rechargeable Li-ion batteries
Variety of Options
Signia offers a series of other hearing aid models with a variety of features for your individual hearing styles. Your audiologist or hearing instrument specialist may also recommend any of the following:
Signia Styletto X
Signia Silk X
Signia Insio NX
Signia Cros